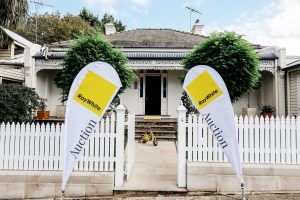 A wide variety of property ranging from apartment, unit, to family home was again offered for sale in the 21 May auction portfolio. This is a further reminder of the excellent choice buyers can enjoy in this Eastern beaches area due to the standard of housing and variety of different types of property and position factors, from waterfront to lifestyle.
Another large crowd filled the Headsail room of the Bucklands Beach Yacht Club, and positive buying interest resulted in very positive real estate transactions for both our vendors and buyers.
As we regularly report, the numbers of people that have been attending each week, apart from our vendors and those who have registered to bid, is testimony to the interest in "what is currently happening" to the real estate market.
This portfolio comprised eight properties, with pleasing bidding for three properties resulting in "under the hammer" sales which meant that those vendors achieved an immediate unconditional sale and two properties achieving unconditional sales immediately post auction before the evening closed. An unconditional sale is the prime aim of an Auction Marketing Programme, so while we may not always achieve a sale "under the hammer", negotiations immediately post auction can achieve the aim of achieving an unconditional sale or the best conditional sale.
Under the hammer sales were made for:
1/ 24 Highland Park Drive – $675,000 after 19 bids
6A Yeoman Place – $1,100,000 after 8 bids
46 Glennandrew Drive – $1,121,000 after 35 bids
7 San Jose Rise in Shamrock Park sold immediate post auction pleasingly in excess of $2 million, and 1/ 27 Eastern Beach Road sold immediately post auction.
So, a very pleasing result for our vendor clients and an excellent clearance rate. We continue to negotiate post auction for the remaining three properties, to try and achieve vendors' price expectations.
There are always various reasons why potential buyers cannot meet the terms of an Auction For Sale and Purchase Agreement which as we have noted is a totally unconditional agreement, however, we try to work with these potential buyers to attract the best conditional sale for our vendors.
Ken Ralph, Company Auctioneer