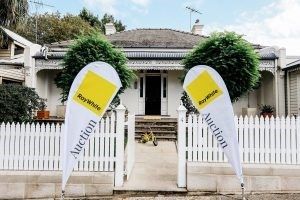 Another very pleasing number of people filled the Headsail room of the Bucklands Beach Yacht Club, the home of Ray White auctions this week. Despite a very wintry evening, they were enthusiastic to either take part in the buying process for the properties within our 24th auction portfolio for this year, or just to come along and see what's selling and for what price, also to get an idea of what is happening very currently in the real estate market.
All attendees would have enjoyed seeing really positive real estate activity last night. With seven of the eight properties selling "under the hammer" it just proves that while there has been a lot of commentary about auction success and buyer activity, many real estate operators who have shied away from auction activity have done so out of lack of their own confidence, knowledge and skills to effect a "best possible" sale contract for their vendor clients.
In over 30 years of continually changing market conditions, our company (Ray White Mountfort Estate Agents Ltd Licensed (REAA 2008)) has never lost confidence in our goal and ability to effect an unconditional sale within a defined timeframe for our vendor clients; and the auction For Sale and Purchase Agreement which is the only REINZ and Auckland District Law Society approved unconditional agreement.
Our 9 July portfolio included properties in Pakuranga Heights, Howick, Farm Cove, Half Moon Bay, Highland Park and Dannemora. All of these properties were quite different in terms of style and floor plan, apart from their location within our Eastern Beaches residential area.
The very pleasing buyer response at auction, not to mention our vendors who embraced the buyer feedback, resulted in seven properties selling "under the hammer".
During the marketing period we qualify potential buyers as to property suitability and price so that vendors have a clear indication prior to auction of bidding interest and price level. The auction activity then dictates whether the price exceeds the pre-auction indications.
It is always really pleasing to receive very positive response from Vendors when the auction has been concluded with a sale "under the hammer" – giving our Vendor s a totally unconditional sale.
This week's under the hammer sales included:.
20 Wayne Francis Drive – $1,005,000
87 Takutai Avenue- $1,865,000
2 ReeIick Avenue – $810,000
55 Elliot Street – $1,050,000
327 Pakuranga Road – $780,000
1/24 Rapallo Place – $910,000
29 Kelvin Hart Drive – $960,000
All in all, another extremely pleasing result for our vendor clients after three weeks of marketing, and also a great result for buyers who were able to secure quality homes in very popular residential neighbourhoods.
Ken Ralph
Company Auctioneer