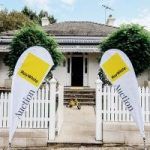 Our 12 July portfolio attracted very pleasing active bidding which resulted in an "under the hammer "or very immediate post auction clearance for nine of the thirteen properties. One property is awaiting final vendor clearance which will give a ten from thirteen clearance, and noting, that two of the remaining properties also attracted bidding interest but not to a price level that met vendor expectations.
This was our 25th Auction Portfolio for this year where the months are galloping by.
Again it was our pleasure to welcome a pleasing attendance to the Headsail room of the Bucklands Beach Yacht Club, the home of Ray White Auctions, including people who had registered bidding interest, those who had expressed conditional buying interest and obviously those who came along to see what is selling and for what price to give an idea of what is happening very currently in the real estate market.
The portfolio included quality properties across our residential areas of Pakuranga, Farm Cove, Half Moon Bay, Bucklands Beach, Howick, Dannemora, Mission Heights, Flat Bush but also a redevelopment opportunity in Mt Wellington.
As highlighted in my recent reports, it was so pleasing to see vendors achieving sale results that allowed them to move on to enjoy their current requirements and buyers delighted to have the opportunity to buy quality properties. People taking a positive attitude, not waiting for life to pass them by or waiting to wait.
As also noted in previous weeks reports placing properties "on the market " to sell "under the hammer" was the key factor in vendors being rewarded with further bidding and achieving the pleasing final prices.
Highlights throughout the evening:
58A Edgewater Drive, Pakuranga got the evening off to a positive start having been brought forward from its 2 August designated auction date due to an unconditional offer that was presented to our vendors and accepted subject the property being submitted to auction at the earlier auction date. The superb presentation of this unit was obviously a major factor in the instant inspection decision to make an immediate offer. It sold "under the hammer "at $950,000 and highlighted that buyers are ready to buy "now" when presentation and their current home buying requirements are in line.
29 Willoughby Avenue, Howick offered buyers a renovated family home located within a popular well established Howick neighbourhood which attracted an extremely pleasing number of buyer interest to the Open Home activity each weekend over the three weeks of marketing which resulted in a sale "under the hammer "at $1,655,000 after some 38 competitive bidders.
13 Davita Place, Farm Cove offered new ownership after some 40 years and an easier care townhouse that has been a joy to live in as well as the popular cul de sac neighbourhood. A positive start and with another 7 bids it sold "under the hammer " at $1,100,000
2/3 Skilling Place, Farm Cove also offered easier care section size with a one level floor plan home located in a popular cul de sac that has very immediate access to preschool to senior Pakuranga College schooling. It sold "under the hammer "after 11 bids at $1,100,000
2 Tomuri Place, Mt Wellington offered buyers an opportunity to investigate the potential of 703m2 in a residential terrace housing and apartment zone. This was another property that has been in long ownership of some 41 years, and it sold into new ownership after some 42 very competitive bids selling "under the hammer "at $1,951,000
26 Tyrian Close, Half Moon Bay offered buyers a very appealing home that excelled in presentation as well as very pleasing indoor / outdoor living, a home located in a popular neighbourhood that accesses popular schooling but also easy access to the Half Moon Bay Marina facilities. With a very competitive 13 bids it sold "under the hammer "at $2,005,000
21 Matarangi Road, Dannemora offered buyers a well-designed four-bedroom home within very easy walking distance to the Botany Town Centre. Continued negotiations while the auction was in progress resulted in a sale "under the hammer "at $1,050,000
4 Jerpoint Drive, Flat Bush offered family buyers generous space with five bedroom and three-bathroom accommodation. It was another property that required a little more patience and perseverance to achieve the right result for both parties, eventually selling "under the hammer "at $1,450,000
37B Waller Avenue, Bucklands Beach offered buyers an easier care three-bedroom townhouse that absorbed living room and decked outdoor living views of marine activity going to and from the Gulf, outline Rangitoto to the Half Moon Bay Marina and urban views across the Tamaki River.
A sale was finalised immediately post auction.
40 Mission Heights Drive, Mission Heights attracted 11 bids and we await the sale confirmation.
135B Ridge Road, Howick and 5 Luana Way, Bucklands Beach also attracted bidding interest,
however, at the time of completing this report we continue to work with buyer interest for these and the balance of the portfolio to secure sales that are satisfactory to our vendors.
So, after three weeks of marketing, extremely pleasing, positive, competitive bidding, for the seven properties sold under the hammer, but also, it needs to be acknowledged that the sales provided buyers with an opportunity to buy quality real estate assets knowing that while having to competitively bid/ buy to be the "winner" they were bidding/buying property that was also the first choice for a number of other buyers.
The excellent prices achieved confirmed our ability to maximise price for our vendors, however, to achieve such results, buyer interest, working with our mortgage broker partners, bidding registrations and actual competitive bidding are the components to achieving great results.
13 July
10 Caithness Place, Farm Cove was a special offering giving buyers an exciting opportunity to buy a home of imaginative innovative exterior and interior design. New ownership will enjoy an interesting home to live in where the floor plan delivers different spaces for different rooms. An indoor spa is a relaxing inclusion while the outdoor living lifestyle will be enhanced by an inground pool, gazebo and landscaped privacy. This property sold "under the hammer "after 22 competitive bids at $2,055,000
Ken Ralph
Auction Services Manager