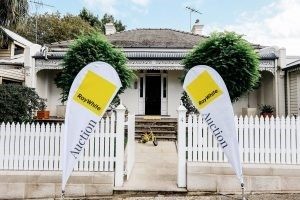 As detailed in our reports over recent weeks, it has been extremely pleasing that the undoubtedly positive and encouraging real estate activity has continued, giving vendors an opportunity to sell with active interest, as well as buyers having an opportunity to purchase quality real estate assets within our Eastern Beaches area.
The 21 October 2019 portfolio was an exciting event for both our vendors and buyers with once again, a very favourable 'under the hammer' clearance. Within two days of the auction event, this was followed by a total clearance of seven out of the eight properties in the portfolio, representing the Bucklands Beach, Mellons Bay, Howick and Botany Downs areas.
The Headsail room of the Bucklands Beach Yacht Club, the home of Ray White Auctions, again attracted a very agreeable number of people who had registered buying interest, those who had expressed conditional buying interest and those who came along to see what is selling and for what price, to give an idea of what is happening very currently in the real estate market.
The evening began with 15 Tranquility Rise, Mellons Bay selling 'under the hammer' for $2,150,000. 12 Angelo Avenue in Howick followed, selling after some 25 competitive bids for $1,000,000.
51C Waterloo Street, Howick was the next 'under the hammer' sale after some 24 competitive bids, selling for $1,365,000. 18 Nelson Street in Howick also sold 'under the hammer' for $905,000. 4/49 Waterloo Street, Howick was not going to be outdone by its much newer and floor plan spacious neighbour and was the next to sell 'under the hammer' after some 33 very competitive bids, for $871,000.
As of Wednesday 23 October, sales have been completed for 21A Lynton Road, Bucklands Beach and, after a multi-offer presentation, 184 Cook Street, Howick. 1/9 Kells Place, Botany Downs has attracted multi-offers for vendor consideration and, at the time of completing this report, we await further negotiations between the parties.
Five properties sold 'under the hammer' and two properties sold immediately post auction from an eight property portfolio. So, as stated at the beginning of this report, after three weeks of marketing we have achieved very positive results for both our vendors, as well as buyers who had the opportunity to secure quality purchases.
Our vendor clients are certainly listing quality properties. This gives buyers quality buying options, as well as an opportunity to evaluate the these options with our ability to give prospective buyers direct access to a highly experienced, award winning team of mortgage advisors, who have access to a variety of lending institutions and their very favourable mortgage conditions.
As indicated in our recent reports, the results we are achieving demonstrate a confidence in the current real estate market, as well as a confidence in the quality real estate options which we enjoy in our Eastern Beaches area, particularly now, as we move through the remaining nine effective transaction weeks for 2019.
I continue to emphasise that we consider we are achieving extremely good price results for our vendor clients within a much defined marketing period, acknowledging that our challenge always is to meet vendor price expectations with buyer price expectations. As with all sales, there needs to be a 'win/ win' on both sides – vendors need to be satisfied that the price achieved is the best the market for that item will allow and, buyers need to be satisfied that they have achieved 'buyer value'.
As a foot note, I keep an eye on Australian trends through reports published by Williams Media, which this week reported: 'Agents were busy across the country last week as steady volumes of properties up for auction gave similar results, says CoreLogic. CoreLogic's market analyst Kevin Brogan said he believes next week will see a bigger increase of houses going to auction in Melbourne. "It's a combination of Spring, the residential market having increased 44 per cent since July, although this is still 13 per cent below this time last year," said Mr Brogan. "A significant increase in volumes is overdue and there is a continuing strengthening of the markets, thanks to low interest rates."
Gil King REIV CEO said middle Melbourne still dominated the auction market as Glenroy, Mount Waverley, and Reservoir each sold 10 homes under the hammer last week.
"Suburbs in Outer Melbourne also had an average clearance rate of 80%, higher than Victoria's average of 77% – led by Craigieburn which sold 6 of 7 homes listed under the hammer." said Mr King.
Sydney – a similar volume of auctions week-on-week.
There were 724 homes taken to auction this week, a difference of only 9 auctions on last week's figures (733).'
Ken Ralph
Auction Services Manager