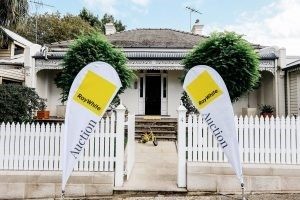 Numbers within each of these portfolios reflect both the mid-winter listing activity, as well as the reports we have seen recently, particularly from the Sydney and Melbourne market places.
The more limited portfolios still attracted pleasing attendances to the Headsail room of the Bucklands Beach Yacht Club, the home of Ray White Auctions. They included people who had registered buying interest, those who had expressed conditional buying interest and those who came along to see what is selling and for what price, to give an idea of what is happening very currently in the real estate market.
5 August 2019
This portfolio originally included five properties. However, 2/45 Drake Street was sold a week prior due to a pre-auction offer which was accepted, subject to the property proceeding to auction at the earlier date. The bidding was opened at the pre-auction offer of $800,000 and, after 10 competitive bids, sold under the hammer for $821,000.
Another property was withdrawn due to personal circumstances and one property postponed. Therefore, that left two properties for auction evening buyer attention.
28 Burswood Drive has received a conditional sale post auction and we continue to work with buyers for 1/188 Clovelly Road.
12 August 2019
This portfolio included four properties. 3/15 Greenhill Crescent completed a sale post auction. 68 Eighth Avenue received an offer for vendor consideration and we continue to work with this buyer and other interested buyers. We also continue to work with buyers for the remaining two properties.
During the mid-winter months new listings, in some years, can be more limited as vendors wait for the brighter spring months. However, as we have demonstrated again in recent weeks, there is very good buyer activity as buyers readily recognise that when quality properties are offered For Sale, the time of year is of no consequence. Well marketed properties will sell each and every month of the year.
I continue to emphasise that we consider we are achieving extremely good price results for our vendor clients within a much defined marketing period, acknowledging that our challenge always is to meet vendor price expectations with buyer price expectations. As with all sales, there needs to be a 'win/ win' on both sides – vendors need to be satisfied that the price achieved is the best the market for that item will allow and, buyers need to be satisfied that they have achieved 'buyer value'.
As a foot note, I keep an eye on Australian trends through reports published by Williams Media, which this week reported: 'There were 365 homes auctioned across Sydney this week, lower than the 386 auctions held last week. Ray White NSW CEO/Auctioneer Jason Andrew, who successfully called four out of five auctions on Saturday, said the tide was definitely beginning to turn.
"If you're considering putting your property on the market then there's never been a better time to do so," he said. "With low stock levels, competition for properties before the spring selling season is pushing prices up, which is ideal for a vendor. There's been a real transformation since the election because we wouldn't have seen results like today before May."
Melbourne volumes remained steady across the city (500 auctions).
REIV CEO Gil King said the weekend's results were "dominated" by Middle Melbourne.'
Ken Ralph
Auction Services Manager