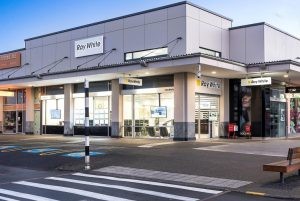 Outstanding! The first of our September auction portfolios attracted a magnificent result.
Many will note the prices achieved. However, what should be noted by everyone with equal prominence is the number of bidding registrations we received for the majority of the portfolio, as well as the number of bids recorded in achieving the sale results.
The results from this portfolio are a continued confirmation of a positive level of confidence to invest in real estate, particularly within our Eastern Beaches area.
Under level 2.5 lockdown, with the required social spacing, we were able to return to the home of Ray White Auctions, namely the Bucklands Beach Yacht Club. Vendors and bidders moved into the room as their interest property was offered For Sale and moved out once finished. The properties being offered were found in Pakuranga, Sunnyhills, Bucklands Beach, Highland Park, Howick and Dannemora.
The evening began with 9 Amerce Place in Highland Park. This was brought forward from its designated 14 September auction date due to an unconditional, pre-auction offer which was accepted by the vendor, subject to the property being submitted to auction at the earlier date.
From the pre-auction offer of $1,400,000 and, after some 18 bids, it sold 'under the hammer' for $1,531,000.
2/12 Markham Place, Bucklands Beach followed with a sale 'under the hammer' after some 52 very competitive bids, for $1,016,000.
18 Mulroy Place in Dannemora was the next to sell 'under the hammer', again after extremely active bidding – 42 bids, for $1,395,500.
Next up was 14 Fortyfoot Lane, Sunnyhills. After some 52 highly competitive bids, this property eventually sold 'under the hammer' for $2,410,000.
25 Bradbury Road in Highland Park attracted a number of bidding registrations and, with a very competitive 44 bids sold 'under the hammer' for $2,060,000.
23 Beechdale Crescent in Pakuranga also sold 'under the hammer' for $947,000.
56 Stannilands Street, Sunnyhills attracted numerous bidding registrations but, despite 21 very competitive bids, failed to reach vendors' price expectations.
8 Juliet Avenue in Howick attracted some 13 bids and we continue to negotiate with the highest bidder to complete a sale for our vendors.
We also continue to work with the buying interest for 93 Beechdale Crescent, Pakuranga.
So, after over three weeks of marketing, we achieved extremely pleasing, positive and competitive bidding providing great results for our vendors. However, it must also be acknowledged that the sales provided buyers with an opportunity to buy quality real estate assets knowing that, while having to competitively bid to be the 'winner', they were bidding for property which was also the first choice for a number of other buyers.
The prices achieved confirmed our ability to maximise price for our vendors. However, to achieve such results buyer interest, bidding registrations and actual competitive bidding are the components to achieving great results.
As a foot note, I keep an eye on Australian trends through reports published by Williams Media.
As with previous weeks there was little auction activity comment, particularly from Melbourne, due to their strict 'Lockdown' requirements. However, the following comments were made.
'Sydney was host to 625 auctions this week, down from 706 last week and 528 this time last year.
Of the 491 auction results collected so far, 69.5 per cent were successful, down from last week's preliminary result of 74.0 per cent which revised down to 64.2 per cent at final results.
This time last year, Sydney recorded a final auction clearance rate of 75.7 per cent.
Auction activity came to a virtual halt in Melbourne this week with just 28 homes taken to auction.
The lower activity is not overly surprising given the city has been in stage 4 lockdown for the past 5 weeks, meaning both onsite auctions and private inspections are currently banned in Melbourne.
Of the 24 results collected so far, just 33.3 per cent were successful, with all but one sold prior to the auction event. Two thirds of Melbourne auctions were withdrawn this week, skewing the clearance rate lower.
The continuation of the ban on inspections means that people who desperately need to buy or lease a property will have to make that decision 'sight unseen'. "We are talking about shelter and making the biggest financial commitment for your lifetime," said REIV president Leah Calnan. "The government is turning a blind eye to the significance of a property decision in people's lives.
"The delay in allowing private inspections means that many people will be unable to make the move they so desperately have to make or commit to a property without seeing it first."
Before the introduction of Stage 4 restrictions, people could visit a property one-on-one with the agent. Private inspections were done with all safety measures including requirements for surface cleaning, gloves, masks, and contact details and are 100% supervised.
REIV Members took these extensive precautions long before they were recommended by government.'
Ken Ralph
Auction Services Manager