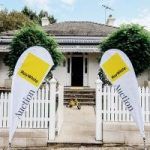 This was our 29th Auction Portfolio for this year, a more limited number within the portfolio, as can be a listing trend at this time of the year, however, our forward bookings for coming months indicates that the "Spring Market" will deliver its usual volume and quality buying options.
It is always our pleasure to welcome a pleasing attendance to the Headsail room of the Bucklands Beach Yacht Club, the home of Ray White Auctions, including people who had registered bidding interest, those who had expressed conditional buying interest and obviously those who came along to see what is selling and for what price to give an idea of what is happening very currently in the real estate market.
The portfolio included quality properties from our residential areas of Cockle Bay and Flat Bush, but also, a redevelopment opportunity in Manurewa East, and also a commercial unit in East Tamaki of quite spectacular presentation.
As highlighted in my recent reports, it was so pleasing to see vendors achieving sales results that allowed them to move on to enjoy their current requirements and buyers delighted to have the opportunity to buy quality properties. People taking a positive attitude, not waiting for life to pass them by or wanting to wait.
As also noted in previous weeks' reports placing properties "on the market" to sell "under the hammer" was the key factor in vendors being rewarded with further bidding and achieving the pleasing final prices.
Highlights throughout the evening:
6/25 Sir William Avenue in East Tamaki was a special highlight to market as it offered buyers an opportunity to buy a commercial unit currently being utilised, because of its spectacular presentation and numerous inclusions, as a Man Cave with full entertaining components, commercial office with dedicated theatre room – so – quite special utilisation options, appealing to differing buying criteria. After some 10 bids, it sold "under the hammer" at $950,000.
25 Broadhurst Road, Flat Bush drew strong buyer response and determined bidding for a three bedroom , one floor plan level, home . No doubt the opening of the new Ormiston Town Centre is drawing attention to residential areas within close proximity to the Town Centre. Very determined bidding progressed the bidding to $1,165,000 when the Vendor declared that the property would sell "under the hammer" – a total of some 94 bids and time resulted in a final sale " under the hammer "at $1,210,000.
34A Alfriston Road, Manurewa East offered buyers a 1647m2 redevelopment section site, however, 13 competitive bids did not reach the vendors' price level expectations and we continue to work with buyer interest. We are also working with buyer interest for 13 Tanglewood Place in the Vendors' best interest.
So, after three weeks of marketing, extremely pleasing, positive, competitive bidding, for the properties sold under the hammer, but also, it needs to be acknowledged that the sales provided buyers with an opportunity to buy quality real estate assets knowing that while having to competitively bid on/buy to be the "winner" they were bidding on/buying property that was also the first choice for a number of other buyers.
The excellent prices achieved confirmed our ability to maximise price for our vendors , however, to achieve such results, buyer interest, working with our mortgage broker partners, bidding registrations and actual competitive bidding are the components to achieving great results.
6 August
2/157 Panama Road, Mt Wellington offered buyers an opportunity to buy a brand new four bedroom townhouse in increasingly popular Mt Wellington. It sold "under the hammer" at $1,260,000.